Summer Beach Project is an investment of eight weeks that will pay dividends throughout the remainder of your life! You will grow in your relationship with Jesus Christ by learning more about studying the Bible, praying, building relationships with other college students, working a full-time job, sharing your faith and attending a local church. While the exact dates and location are still TBD, we are planning on having a full Project this coming summer.
Throughout the summer, you will receive training to develop and grow as a leader among your peers.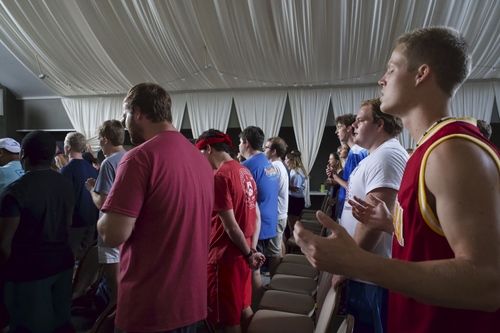 Connect with students from across our region and cultivate relationships on your campus to help you grow spiritually.
Through each training, you will learn lessons on how to multiply your life in all areas: spiritually, vocationally, and relationally.
The cost will be approximately $2000-$2500. This cost will include room and board for the summer, books and training materials, weekly social events, and a weekly project meal.
Am I ready to change the world?
Summer Beach Project (SBP) is an nine-week spiritual investment. Project is an environment that is designed to produce spiritual leaders. Throughout the summer, your son/daughter will work a full-time job, build relationships with college students from other campuses, and attend regular teaching and trainings. The seminars will include workshops on Bible study, prayer, evangelism, and overcoming temptation. In addition, students will participate local churches, discipleship groups, and project-wide socials.
The staff of Campus Outreach will oversee Project. These men/women are trained to create a project that is safe, fun, and spiritually enriching. During the school year, these staff minister full time at campuses in Georgia, Alabama, and Mississippi. Campus Outreach will also employ a group of Team Leaders. These are student leaders who will provide ongoing direction and support throughout the summer.
Each student is required to work a full-time job. Local employment provides students a way to make money, apply what they are learning in a real life environment, and impact their coworkers. In order for all 250 students to obtain jobs, Project needs to be in a high-tourism location that offers seasonal work. Every participant over the past five years has received full-time employment.
SBP students have a reputation for hard work and positivity in Panama City. For that reason, local businesses will coordinate with our staff and students. Your son/daughter will already have a employment opportunity available when they arrive to Project.
Yes! Students are allowed to take classes online. Depending on the course load, we can adjust the amount of hours they work. Career-specific internships are also allowed as long as they align with the project schedule and job policies. The Project Director must approve internships.
Campus Outreach staff believe that nine weeks is the perfect length of time for a summer project. This allows for students to spend quality at home before and after project. During Project, it provides ample time for sustained leadership and spiritual growth. Often times following church camps, retreats, and mission trips, a person may return home on an emotional high. We desire for students to make long-term gains in character, leadership skills, social aptitude, and responsibility. We believe that nine weeks is enough time for a student to take substantial steps in these areas.
Absolutely not! Don't get me wrong, Beach Project is a lot of fun. There will be weekly socials, free time at the beach, and on site games. You will make life long friends and create unforgettable memories! At Project, the goal is to develop Christ-like leaders. It is not designed for the student who wants to take it easy. The schedule is full with work, small group interaction, and trainings.
Yes! Parent's Weekend is June 12-14. We would love to have you come visit Project and see what your son/daughter is doing. During this weekend, as well, students are allowed to stay with their visiting families, as long as the Project Director is notified.
Campus Outreach staff members keep a careful watch of the developing weather that could affect Panama City Beach. Procedures have been established to ensure that students are in a safe location in the event of a threat.
There are two projects divided by campuses:
Project 1 - (Samford University, University of Alabama, University of North Alabama, University of Southern Mississippi, University of South Alabama)
Project 2 - (Berry College, Troy University, University of West Georgia, and others)
Project will be located at Shalimar Beach Retreat, 203 Shalimar St, Panama City Beach, FL 32413.